Going to the mall is good for your health
05/08/2018

Dominique Nancy

A Montreal study suggests that shopping centres may help in the rehabilitation of patients with physical disabilities.
Rehabilitation professionals would do well to take their patients to the mall. It would help improve their physical and cognitive skills, augment their psychological health, and get them to socialize more.
That's one of the findings of a study published in the Disability and Rehabilitation Journal by a team from the Centre for Interdisciplinary Research in Rehabilitation of Greater Montréal (CRIR).
"What we found most surprising was that our work generated a lot of interest and discussion among the professionals we surveyed," said co-author Bonnie Swaine, a professor at Université de Montréal's School of Rehabilitation.
"Even those who weren't using shopping centres saw them as effective environments to assess rehabilitation that could help people with physical disabilities fully integrate into their communities."
Examples of those disabilities include poor vision, hearing loss, speech impairment, mobility issues due to head injury or stroke, and the need for a wheelchair.
Swaine directed the work of student Delphine Labbé, as an intern at UdeM, explored how shopping centres could be used as resources for rehabilitation patients.
"In recent years, malls have become popular with walking clubs and some members of rehabilitation centres. But as far as we know no research has studied the factors that facilitate or impede their use," explained Swaine.
"That's what we wanted to find out."
Two discussion groups brought together 15 professionals from various rehabilitation disciplines (audiology, physiotherapy, occupational therapy, speech therapy, etc.) who work with people with disabilities of all ages. They were trained in two subjects: the use of shopping centres as clinical evaluation or treatment settings and the factors that facilitate or limit their use by rehabilitation professionals. "We let participants speak so we could learn what they did in practice," said Swaine.
The study's findings show that shopping malls can help patients meet physical, psychological and social rehabilitation goals. They provide a real-world environment that can motivate patients while promoting independence and a feeling of normality. The decision to use shopping malls as a rehabilitation setting may be influenced by factors such as the patient's personality and environmental aspects such as the clinical context, the shopping centre's accessibility and the receptiveness of store owners. The study did not reveal any difference in outcomes for men and women.
An effective treatment setting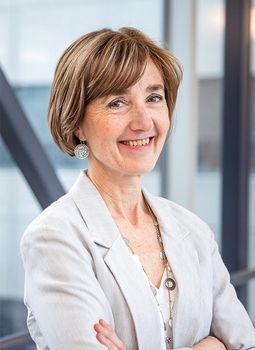 Bonnie Swaine
Credit: Amélie Philibert
Based on this research, in Montreal malls provide the advantage of protection from winter weather. But more importantly they offer patients a "real, controlled" environment that makes social integration easier, especially for patients with anxiety. "Imagine you've had a stroke and now have trouble speaking," suggested Swaine. "It would be perfectly understandable if you shied away from personal interaction. Just going shopping could trigger anxiety." Working in a familiar environment with specific targets set by patients themselves could give them confidence and promote independence. "That could be a game-changer for people with disabilities."
Early in her career, while working as a therapist at the Montreal Rehabilitation Institute, Swaine regularly took her patients to the Carrefour Laval shopping centre. "I'd shop with them, which gave them the opportunity to meet various challenges. It helped them prepare for life after they leave rehabilitation," she said. Since then, there have been substantial budget cutbacks and sometimes finding a way to plan and pay for transportation to the mall requires some effort. It's not as easy as it used to be. "But it's worth the effort!" said Swaine.
Thie study is part of a larger project carried out by a team from CRIR, which is affiliated with Université de Montréal, McGill University and Université du Québec à Montréal. Aside from Labbé (the lead author) and Swaine, Alice Havel and six other CRIR researchers took part in the study: Tiiu Poldma, Catherine Fichten, Eva Kehayia, Barbara Mazer, Patricia McKinley and Annie Rochette.
They all believe their findings show that shopping centres can be effective settings for rehabilitation and that a promotional campaign among professionals would encourage them to use these spaces. However, further research is needed to identify the links between these settings, which are open to everyone, and the benefits they seem to provide in terms of physical health, self-esteem and socialization.