Breaking through the glass ceiling
05/15/2018

François Guérard

Université de Montréal alumni Louise Roy and Valérie Plante get together at Montreal city hall to talk about women in power.
Each in her own way, Louise Roy and Valérie Plante have made their mark on history.
Roy led the way in 1985, when, not yet 40, she became the first woman to head the Montreal Urban Community Transit Commission (MUCTC), arriving "like a bolt from the blue," as she put it. Stupefaction was also the order of the day when, a generation later, the reins of power in Montreal changed hands in the municipal election of November 5, 2017 and Valérie Plante triumphantly told her supporters: "Three hundred and seventy-five years after Jeanne Mance, Montreal has finally elected its first woman mayor!"
In a room at Montreal city hall named after the co-founder of the future metropolis, Plante recently sat down with Roy, who is nearing the end of her term as chancellor and chair of the board of Université de Montréal, for a frank discussion on women in power.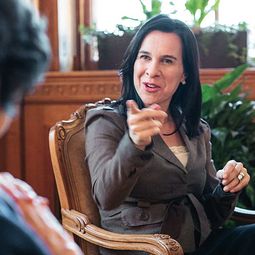 Louise Roy: I started studying at Université de Montréal in September 1968.
Valérie Plante: Oh, that was a legendary year!
Louise Roy: It was just after the events of May '68. And, of course, as sociology students, we were at the forefront of the protest movement. I took part in bed-ins and even helped occupy the rector's office! I was passionate about political issues and social change – and I still am
Valérie Plante: We have that in common. University opened my mind intellectually and as a citizen. I was discovering Montreal, assimilating all sorts of ideas and fighting for several causes that were important to me. I specialized in ethnology, so there was a lot of questioning of the Western gaze, our relationship to the 'other'. And because of that, I've always enjoyed being surrounded by people who don't necessarily think like me. I believe that the ability to question oneself is an essential quality in any administrator.
Louise Roy: We are very fortunate to have degrees in the humanities. An anthropologist as mayor and a sociologist as CEO – who would have thought?
Valérie Plante: That's for sure! (laughs) But, seriously, I believe that graduates in the humanities make excellent administrators. These disciplines provide the tools you need to feel comfortable dealing with complexity, which is something no large organization can avoid.
Louise Roy: During my time with the MUCTC, I found myself managing very diverse teams composed mainly of engineers, economists and urban planners. And I quickly realized that the stakes in public transit are primarily political, economic and social rather than technical, so you really need to have a broad understanding of each of these to move forward.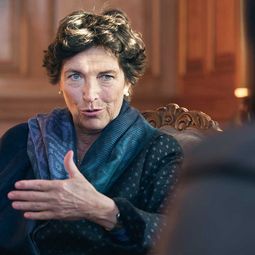 Valérie Plante: When you manage a city, it's important to have a strong general perspective because we are the ones providing the overall vision and making decisions based on numerous, often divergent, parameters. You have to be able to surround yourself with highly competent people who have the technical knowledge that will lead to solutions to the various problems before you. I've only been mayor for a few months but I'm already very aware of this.
Louise Roy: When you take on a powerful job, you discover strengths you never knew you had
Valérie Plante: That's true. Since I've been in politics, I've realized that I have a very strong sense of duty. I'm impressed at how that feeling inhabits me all the time. It's a strength I can count on when things get tough.
Louise Roy: When you announced you were running for mayor, I thought, "How courageous!" Then, when you won, I thought, "Finally"! You've opened the door for a whole generation. It feels like a breath of fresh air.
Valérie Plante: How were you received when you arrived at the head of the MUCTC?
Louise Roy: There was quite a stir. It made front-page news in all the papers. The public transit sector had been hit by a wave of strikes in 1985. The union representing maintenance workers had been placed under trusteeship after some of their supervisors were taken hostage!
Valérie Plante: Really?
Louise Roy: The work climate was terrible. People hated our bus drivers so much they took to hitting them with their umbrellas! And then here I come – a 37-year-old woman – tasked with the job of restoring public trust. That's when I realized the power of communication. I discovered I was comfortable talking to people, which wasn't the case for my predecessor. I went out into the field and I met with the striking workers, but also with citizens, the black community, the elderly. And the media followed me everywhere I went.
Valérie Plante: I tip my hat to you. With all those challenges, the cards were really stacked against you. You're one of our pioneers. That being said, being the first is one thing; we also have to make sure that others follow in our footsteps. There are very few role models of women in power. Canada had its first female prime minister, Kim Campbell, 25 years ago, but there haven't been any others since. Will we have to wait 25 years after Pauline Marois to see another woman at the head of our (Quebec) government? I have no desire to be the only female mayor in the history of Montreal. I'd like to stay in this position for a long time, but I'd also like to see more women candidates running in future elections.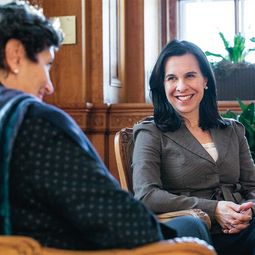 Louise Roy: Once we get a critical mass of women in power, that's when we'll be able to make a real difference. But succession is a problem. Power is like an extreme sport, and it's not easy to convince talented young women or men to take on demanding work and complex responsibilities in a media environment that has an extremely low tolerance for the slightest error
Valérie Plante: We have to break the mould, which is what I'm trying to do. On the evening I was sworn in, I broke with tradition by inviting my family to sign the city's "golden book" with me. It was my way of saying: "I'm the mayor, but I'm also a mother and a spouse, and I'm declaring it publicly." It's not easy to change mentalities in politics because the upper spheres of power are often occupied by older men with grown children.
Louise Roy: The rise of women to management positions comes at a time when management styles are changing. You can't mobilize millennials by telling them to do this or do that. It won't work. Today's leaders don't give orders, they rally. They don't dictate their vision, they share it. Hierarchy is giving way to a dynamic based on contributions. And I believe that women leaders are well suited to this shift. But a lot of young men also share these values of mobilization, listening and empathy.
Valérie Plante: I agree with you, but I would have to add that there's a double standard in politics. A woman has to be careful about how she expresses her emotions in public. When Barack Obama or Justin Trudeau shed a tear, no one questions their capacity to lead. But if a woman cries, you immediately hear comments like, "she's not in control" or "she's too emotional." And people start to doubt her ability to lead with authority.
Louise Roy: We all have these unconscious biases – both men and women. And it's important that we work to expose them and make them visible for everyone to see. That's the only way we can achieve equality.
Valérie Plante: There are studies showing that men tend to over-estimate themselves by 30 per cent in a job interview, while women under-estimate themselves by 30 per cent. Every time I've faced a challenge, I've reminded myself of these figures and then I've gone for it! That's what I always say to the young women I meet: 'Go for it, girls! Get outside your comfort zone and get involved in a cause that's important to you. You'll learn so much about yourself and others. Don't wait. Let's go!'