UdeM students vie to design world's best antibiotic biosensor

The multidisciplinary team is the only one from Canada at SensUs, an international student competition in the Netherlands.
A team of 10 students from Université de Montréal and its affiliated schools is in the Netherlands this week putting the final touches on a biosensor that could one day revolutionize how we measure levels of antibiotics in the blood.
Baptized FlowsensUM, their invention could potentially radically reduce the time it takes to obtain a reading: from two hours to five minutes.
Under the supervision of Jean-François Masson, a professor in UdeM's Department of Chemistry, the team is taking part in SensUs, an international competition organized by students and faculty of the Eindhoven University of Technology in the Netherlands.
The aim of SensUs is to challenge students to design and develop, in a spirit of "friendly competition," more effective and innovative biosensors for use in healthcare. The most common biosensors are the pregnancy test, blood glucose meter and cholesterol meter.
The theme of this year's competition focuses on developing a biosensing system for the measurement of vancomycin.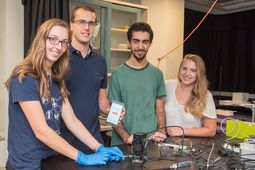 Four members of the BiosensUM team (L-to-R: Marie-Pier Dinel, Frédéric Fournelle, Abdelhakim Qbaich). Absent are team members Laurianne Gravel-Tatta, Madline Sauvage, Jean-Antoine Gauthier Cyr, Antoine Nkaye, Elizabeth Elder and Godefroy Borduas.
Credit: Amélie Philibert
"Vancomycin is what's known as an antibiotic of last resort, meaning it's used when all other options have failed due to antibiotic resistance," explained chemistry student Marie-Pier Dinel, who is leading the UdeM team.
"Ensuring a proper dosage of vancomycin is critical for health, as too little of it will be ineffective and could lead to antibiotic resistance and too much of it can be dangerous for the patient," added her colleague Frédéric Fournelle
Different types of biosensor
Within the limits imposed by the theme, teams have free reign to imagine the type of biosensor they want to develop.
The miniature device designed by the BiosensUM team detects the vancomycin molecule using a small drop of blood plasma. This sample is combined with a solvent and injected into a microfluidic cell (a polymer cell designed to receive a small volume of liquid) specially designed for the FlowsensUM.
The fluid circulates in a continuous flow in the device, which detects the level of vancomycin in five minutes. FlowsensUM can be activated using a simple cell phone and is compatible with medical computer equipment. Current measuring devices and methods take up to two hours to deliver results.
"Our objective is to continue to develop FlowsensUM so the test can be done with a simple drop of blood, thus eliminating the step of plasma extraction," Fournelle explained. "Our device could eventually be used to detect and measure other molecules."
It took the team 10 months to develop the FlowsensUM prototype. The project's main funding sources are Université de Montréal, the CREATE Training Program in Continuous Flow Science (a Canadian interuniversity research program) and SensUs.
A multidisciplinary competition
Thirteen teams originating from as many countries will showcase their sensors at the competition, which takes place September 7 and 8 in Eindhoven, Netherlands. The participating teams compete for prizes in four categories: analytical performance, creativity, translational potential and a public inspiration award.
The latter prize is based on a popular vote open to the public via the contest's website (digital.sensus.org), where visitors can also view presentations of the scientific and entrepreneurial component of each project. Université de Montréal encourages members of the community to cast a vote in support of its participating team.
In keeping with the multidisciplinary nature of the competition, the members of the BiosensUM team are from different academic fields, including chemistry, biochemistry, computer science, engineering (Polytechnique Montréal) and marketing (HEC Montréal). The competition is open to graduate and undergraduate students.
International prestige
This is the first time Canada has had a team in this contest, which accepts only one team per country. "I found out about the competition last year while reading an editorial in a scientific journal," Jean-François Masson said. "I put together a file and registered for the SensUs competition and our project met all the selection criteria."
The SensUs competition offers students an excellent introduction to the field of research by challenging them to design and develop their projects with complete autonomy. "Very few competitions bring together students in engineering, the natural sciences and business development, despite the fact that these areas of expertise commonly overlap in companies," he added. "Our participation is a great way to boost the international prestige of UdeM, Polytechnique Montréal and HEC Montréal."
For the project supervisor, the competition is also a unique opportunity to promote his field of research, which involves the use of spectroscopic biosensors for the analysis of biomolecules present in medical samples.