Celebrating Indigenous students' achievements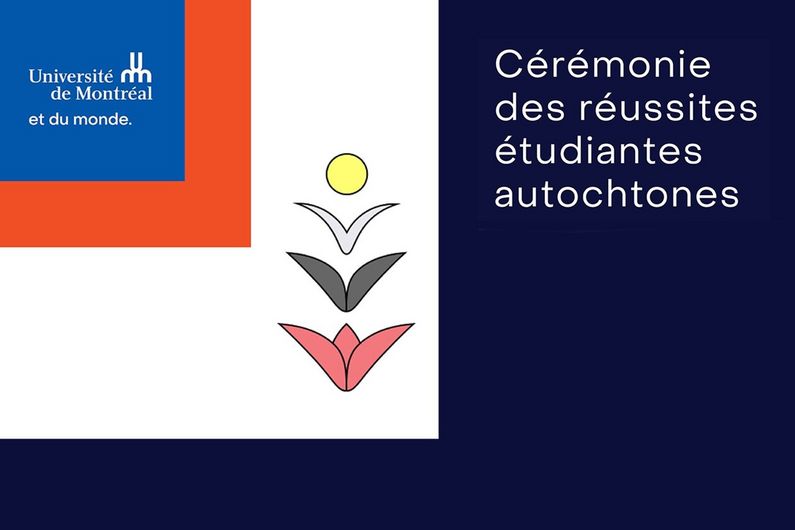 Our Indigenous students' creativity, courage, talent and determination were celebrated at the 3rd Indigenous Student Achievements Ceremony.
The 3rd Indigenous Student Achievements Ceremony, held virtually on November 24, 2021, was attended by students and their families, Indigenous leaders, donors and members of the University's administration, including Françoise Armand, Associate Secretary General responsible for equity, diversity, inclusion and relations with First Peoples.
At the event, organized by Services à la vie étudiante, the members of the Fall 2021 Indigenous student cohort were welcomed, their achievements were highlighted and the University's Indigenous scholarships were handed out.
The ceremony had two main objectives:
Underscore the motivation, dedication, commitment and success of the members of UdeM's Indigenous student community;
Draw attention to the importance of the support from donors and its significant impact on the pursuit of higher education by these students.
"We're saying 'Indigenous student achievements' in the plural because academic achievement can take many forms for First Peoples," said Samuel Rainville, the University's senior advisor on relations with First Peoples. "Since the first ceremony, we've always tried to spotlight the accomplishments of our Indigenous student community. I think our greatest achievement is the collective force of our cultural pride."
The official opening of the ceremony by Oscar Kistabish, an Anishinaabe elder from the Pikogan community and president of the Val-d'Or Native Friendship Centre, was followed by speeches from Elizabeth Perez, Director of Socioeconomic Resources at Services à la vie étudiante, and Daniel Jutras, Rector of UdeM. In a gesture that was highly appreciated by the audience, Jutras delivered his speech in Innu-aimun.
Ghislain Picard, Chief of the Assembly of First Nations of Québec-Labrador, applauded the efforts of the Indigenous students currently studying at the University: "You need a lot of moral support when you're a student. It helps you stick with it. Ultimately, education is an important component of a constellation that includes our autonomy, our self-determination as a people."
Lieutenant-General Jocelyn Paul, a UdeM alumnus (Anthropology, 1992) and Deputy Commander, Allied Joint Forces Command in Naples, also had words of encouragement for Indigenous students: "Be proud of who you are. At the University, open your mind, cultivate your mind. If you feel discouraged, take a break, go get support and advice. Don't let yourself become demoralized: persevere and you will succeed!"
Also on the program for the evening, first-year Indigenous students – including Sheryl-Lee Verreault, a recent graduate of Kiuna Institution, an Indigenous Cégep – were welcomed to the University, and Attikamek musician Sakay Niquay performed. The following scholarships and awards were officially presented:
Prix Claude Kistabish to Samuel Émond-Robertson
Bourse de la Famille Ricci pour les étudiants autochtones to Myriam Boivin-Néashit
Bourse du Fonds FAVE pour les étudiants et étudiantes de la Faculté de l'éducation permanente to Juliana Quitich
Bourse Mary Two-Axe Earley to Frédérique Gauthier-Bisaillon and Kate Richard
Bourse UdeM – Premiers Peuples to Louis-Philippe Boivin Grenon
Bourse Dialogue Premiers Peuples and Bourse d'accessibilité aux études supérieures Mary Two-Axe Earley to Mélanie Napartuk
Scholarship recipient Mélanie Napartuk, a Master's student in Nutrition, thanked the donors via video: "In addition to easing the financial burden of going to university, this scholarship made it possible for me to work on projects to raise awareness of First Peoples' realities among the student population."
It was precisely an awareness of Indigenous realities and the vitality of Indigenous cultures that spurred Marie-Josée Hébert, Vice-Rector of Research, Discovery, Creation and Innovation, and a professor at UdeM, to fund the Bourse Dialogue Premiers Peuples: "I truly believe we can support the vitality of Indigenous cultures respectfully but much more actively. We need the creativity, courage, determination and talent of our Indigenous students. I hope this scholarship will help forge a path towards dialogue and mutual respect between the communities."