UdeM faculty and alumni among 135 new appointees to the Order of Canada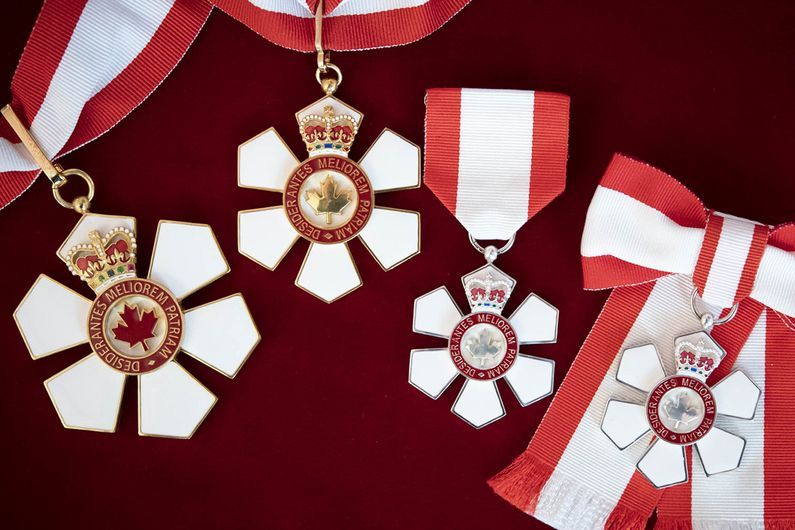 Five UdeM professors and three alumni have been awarded the Order of Canada.
The new appointments to the Order of Canada were announced on December 29. Five professors and three alumni of the University of Montreal received one of the country's highest honours.
Created in 1967, the Order of Canada recognizes outstanding achievement, dedication to the community and service to the nation. Every year, appointments are made at three levels: Companion, Officer and Member.
Professors
Officers
Carl-Eric Aubin, associate professor in the Department of Surgery, has been awarded the title of Officer for building bridges between the fields of engineering and musculoskeletal medicine by creating innovative diagnostic, prognostic and therapeutic tools.
Aubin holds the NSERC Medtronic Industrial Research Chair in Spine Biomechanics and is the Deputy Head of Musculoskeletal Health, Rehabilitation and Medical Technologies at Sainte-Justine hospital. He is also a professor in the Department of Mechanical Engineering at Polytechnique Montréal. He is recognized for his work in orthopedic engineering and his research on biomechanical modeling of the spine for degenerative diseases and deformities. He has developed a platform for computer-assisted design and manufacturing, simulation and optimization of orthotics and surgical instrumentation for the treatment of adolescent spinal deformities. In 2021, the Ordre des ingénieurs du Québec recognized his talents as an educator, mentor and lecturer with the Honoris Genius Award.
Jacques-Yves Montplaisir, a professor in the Department of Psychiatry and Addiction, has been made an Officer for improving the health of Canadians through his pioneering and instrumental research into the development and advancement of sleep medicine.
Internationally renowned for his research in the diagnosis, physiopathology and treatment of sleep disorders, he founded Canada's first centre for sleep research at Sacré-Cœur hospital in Montreal in 1977. He went on to expand his team and, in 2006, established the Center for Advanced Research in Sleep Medicine. A prolific researcher, he has investigated a range of nocturnal disorders, including sleep apnea, sleepwalking, narcolepsy and restless legs syndrome.
Montplaisir is the Canada Research Chair in Sleep Medicine and was the first to show that brain activity during sleep can be used to identify the primary locus of epilepsy and make an early diagnosis of the onset of Alzheimer's. He received the Léo-Pariseau Prize from the Association francophone pour le savoir (Acfas) in 2004 and was named an Officer of the Ordre national du Québec in 2017.
Members
Pierre Legendre, professor in the Department of Biological Sciences, has been awarded the title of Member for pushing the boundaries of community ecology as a pioneer of numerical ecology, as well as for his broad mentorship. He is a world-leading researcher who has advanced ecological knowledge through the study of processes that determine the composition of communities of living organisms. He founded the new discipline of computational ecology, a field of research that combines advanced statistics and computer science for applications to field ecology. He is a prolific author with hundreds of publications to his name. His career has spanned a wide range of disciplines, including geography, oceanography and archaeology. Among other things, he has published spatial analyses of sociological and criminological data with colleagues in the social sciences. He is a member of the Interuniversity Research Group in Limnology.
Legendre is among the world's most-cited scholars and has received numerous distinctions, including the Marie Victorin prize and promotion to the rank of Officer of the Ordre national du Québec. He was recently awarded the Alexander von Humboldt Medal by the International Association for Vegetation Science.
Professor Cara Tannenbaum of the Department of Medicine and the Faculty of Pharmacy has been named a Member for her leadership in geriatrics, women's health and gender research, and for her inter-professional collaborations to optimize healthy aging across the lifespan.
A geriatrician and researcher at the Montreal University Institute of Geriatrics, she is interested in the optimization of geriatric pharmacotherapy, brain/bladder connections, mental health indicators and gender analysis. Her research interests include the optimization of drug therapy in geriatrics and the potential role of pharmacists in this area. As Scientific Director of the Canadian Institutes of Health Research (CIHR) Institute of Gender and Health since 2015, she works with other experts on gender, sex, and health issues to set priorities, consider funding opportunities, build partnerships and translate research findings into health improvements for Canadians. She received the May Cohen Gender Equity Award in 2008 and the Betty Havens Prize for Knowledge Mobilization in Aging from the CIHR Institute of Aging in 2013. In 2018, she was elected a Fellow of the Canadian Academy of Health Sciences.
Luc Vinet, a professor in the Department of Physics, has been made a Member for his pivotal role in the evolution of mathematical physics and for his leadership as an academic administrator. Vinet is a physicist and mathematician who has held many prominent positions in his career. He has served as Rector of the University of Montreal and Vice-Rector (Academic) at McGill University. He served two terms as Director of the Centre de recherches mathématiques, from 1993 to 1999 and from 2018 to 2021. Since last August he has been the CEO of IVADO, the Institute for Data Valorization. He is an expert on the exact solution of physical models. Vinet was instrumental in the creation of the Mitacs Network of Centres of Excellence and several other major research networks in Quebec and Canada, including the Réseau de calcul et de modélisation mathématique and the Réseau québécois de calcul de haute performance. In 2017, he was named an Officer of the Ordre national du Québec in recognition of his many achievements.
Alumni
Members
Morris Goodman (Pharmacy, 1953) has been appointed a Member for enhancing the well-being of Canadians through his business endeavours in the pharmaceutical industry and for his transformative philanthropy.
Jean-Marie Toulouse (Psychology, 1965, 1966 and 1968) has been made a Member for his leadership in the growth of HEC Montréal, and for his pioneering research in the fields of business and entrepreneurship.
Gilles Vincent (Biological Sciences, 1978 and 1983) has been made a Member for his leadership in the botanical garden community and for advancing phytotechnologies at home and abroad.