Children's book helps kids cope with a premature sibling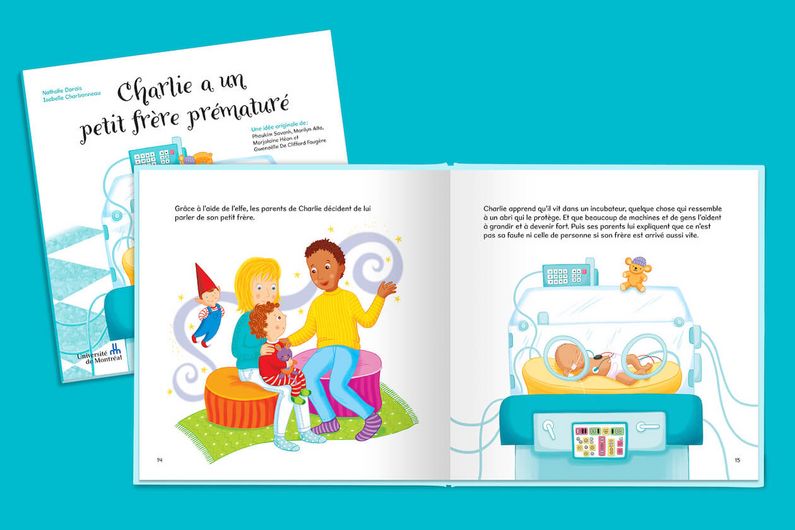 A team of University of Montreal nursing professors and students has created a picture book designed specifically for the siblings of a premature baby.
Charlie's Baby Brother is a Preemie helps young children understand the situation and deal with it. The book is also intended to help parents understand what their other children may be going through and steer them towards useful tools, resources and advice.
Faculty of Nursing professors Marilyn Aita and Marjolaine Héon developed the original idea with help from Ph.D. candidate Gwenaëlle De Clifford-Faugère, based on an original concept that Master's graduate Phoukim Savanh came up with during an internship project. Together, they found an innovative way to apply existing knowledge and document what the siblings of a premature baby may be experiencing. They then asked author Nathalie Dorais to write an imaginative story for young children that incorporated the findings of the scientific articles they had compiled. Illustrator Isabelle Charbonneau supplied engaging images that bring the complex subject to life.
"The birth of a premature baby is a tough time for parents and it can be hard for them to meet the needs of their other children," said Aita. "We wanted to support parents with information about how to behave and how to answer their children's questions."
"In the story, there is an elf who expresses the child's needs," Héon explained. "The book presents the child's reality, so when parents and children read it they can relate to the characters and understand what's going on."
The project was supported by two knowledge mobilization grants, one from UdeM's Bureau Recherche-Développement-Mobilisation (2018-2021) to cover the printing costs and distribution to Quebec neonatal units, and the other from the Quebec Network on Nursing Intervention Research (2015-2018).
With the help of Préma-Québec, the book is now being given to all parents of premature babies in Quebec neonatal units. It can also be viewed online for free, in French and English, on the Bibliothèque et Archives nationales du Québec website.