Small towns hold charms for GPs
09/09/2022

Mylène Tremblay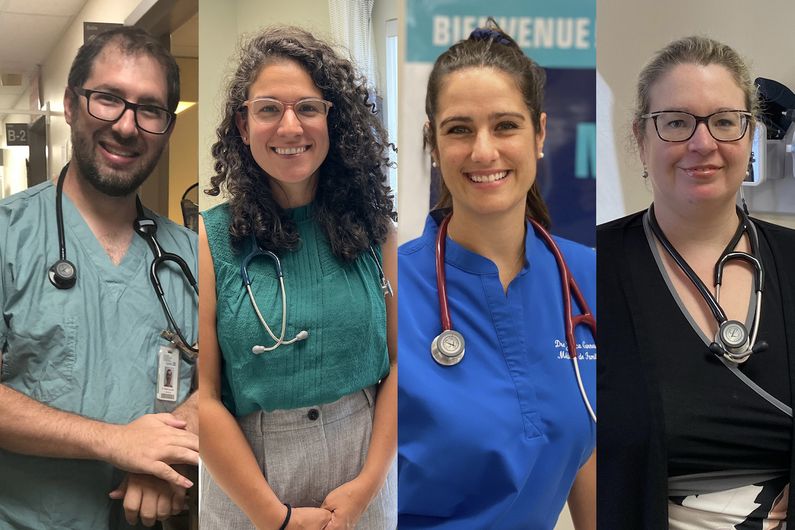 Medical students who leave the big city gain freedom and quality of life. Young physicians up for a challenge find practicing in a small town can be a diverse, friendly and creative experience.
Many of them left the city with the intention of returning. Their plan was to do their clinical training in La Sarre, Mont-Laurier or Trois-Rivières and then practice in Montreal, Quebec City or Sherbrooke. But by a happy twist of fate, these family medicine "expats" ended up putting down roots in their adopted communities.
We talked to four doctors who settled in small towns and wouldn't have it any other way.
A world of possibilities
General practitioner Chantal Charbonneau is a Montreal native who took the leap 12 years ago, when she packed her bags and moved to La Sarre, in the Abitibi region, to complete her residency. "I wanted to get out of the city and see what was happening elsewhere," she related. "My plan was to practice in a small town for a few years and then go back." Today, she is director of La Sarre's university family medicine group (GMF-U) and a clinical instructor in the Faculty of Medicine at UdeM. She shares her life with her husband, a La Sarre native, and their two children.
What kept her in La Sarre, besides her prince charming and her family? She enjoys the personal connections that form in a small team and the close working relationships with specialists. "People are very open, very helpful," she said. "I didn't see how I could find that in an urban setting."
Dr. Alexandra Dubé moved from Mirabel to Mont-Laurier in 2015. She too is the director of the GMF-U in her adopted town and she is training the next generation of health care professionals in UdeM's Department of Family Medicine and Emergency Medicine.
As a small-town GP, you have more responsibility. It forces you to be imaginative and adjust your practice based on available resources. Before sending a patient for a test in a major centre a two-hour drive away, we'll try to come up with an alternative. — Dr. Alexandra Dubé
As there are fewer specialists in outlying areas, young doctors must take care of their patients almost from A to Z. They acquire wide-ranging experience and develop skills in many areas. "Our medical students are exposed to all kinds of clinical situations, and that is definitely one of the strengths of our training environment," said Dubé.
Dr. Pierre-Luc Dazé, a native of Varennes on Montreal's South Shore, still remembers his surgical rotation at the Trois-Rivières hospital: "I would have both hands in the patient's intestines, holding the retractors. In the delivery room, I'd be pulling out the baby. For a ruptured aorta, I was the first assistant to the vascular surgeon." Today, he is a GP working in the emergency room at the Trois-Rivières teaching hospital and supervising medical students.
"Life is good in a small town"
A home far from neighbours, no morning or evening rush hour, lush nature all around and nothing but fresh air: a small town isn't just a good place to practice but also a good place to live. "Mont-Laurier ticked all the boxes: I live five minutes from the clinic and I can hear the birds singing," said Dubé with a smile.
Another thing she likes is being able to get a feel for the community, to find out about people's habits, their hobbies, and anything that might cause injury, such as hunting or working in a factory.
When you live in a small community, you run into your patients all the time; you chat with them at the grocery store, at the school, in the park. The personal contact creates a special bond of trust. — Dr. Alexandra Dubé
Job days designed to lure health care professionals to remote regions have been a great success with recent graduates, who are attracted to the personal wellness, the great outdoors and the slower pace of life. "The medical students and residents I meet are curious about our lifestyle," said Dubé. "Here, as elsewhere, we have a very tight-knit community; it's easy to welcome newcomers and make them feel at home."
Recruiting difficulties
But despite the welcoming people, idyllic scenery and multiple learning opportunities, the distance remains an obstacle. For aspiring physicians, the vast majority of whom trained in urban centres, moving to Sept-Îles, Matagami or Paspébiac is a major life change. They find themselves far from family and friends, and there are limited employment opportunities for their spouses. As a result, there is considerable turnover among health care professionals, many of whom end up leaving.
In our network, we have more trouble filling residency positions outside the major urban centres. The challenge is to increase the attractiveness of family medicine—and of small-town family medicine. — Nathalie Caire Fon, head of the Department of Family Medicine and Emergency Medicine
To remedy the situation, the Ministry of Health and Social Services announced in June the creation of a task force on strategies to promote family medicine.
It includes members of UdeM's Faculty of Medicine, who will help identify the factors that influence residency choices and propose ways to promote family medicine and make it more attractive to future physicians, in urban centres and outlying regions alike. An action plan will be developed on the basis of the task force's work.
"It's important to bring our students' concerns to the table and find common solutions," said Dr. Tania Riendeau, director of family medicine programs in UdeM's Faculty of Medicine.
The Faculty of Medicine is also making every effort to promote practice in small communities, including clerkship fairs, increased visibility for professors in small towns, and local initiatives such as the integrated longitudinal clerkship program (ELI) in Mauricie and now in Abitibi. But according to Caire Fon, the best way to recruit and keep physicians in small towns is to train them there.
We know that physicians who have had clinical training in an outlying region will be more likely to settle there (see box). So it's important to support local training centres in order to provide care in all communities. — Dr. Nathalie Caire Fon
Success in Mauricie
Twenty years ago, Mauricie ranked last dead last among Quebec's health regions in number of physicians per capita. Located near three major centres—Montreal, Quebec City and Sherbrooke—Trois-Rivières was a tough sell.
The opening of the UdeM campus in Mauricie in 2004 turned things around. "As soon as the first cohorts graduated, the region started moving up in the rankings," said Dazé, a member of the first graduating class and now academic assistant to the associate vice-dean of the campus. "For the past 10 years, there have been more job applicants than openings."
What draws graduates to Trois-Rivières? Dazé believes it's the close relationship with supervisors.
In Montreal, clerkships are organized on a teaching pyramid: supervisor, senior residents, junior residents, clinical clerks. In the Mauricie, it's one supervisor, one clerk. — Dr. Pierre-Luc Dazé
His colleague Jessica Garneau, a GP at the Trois-Rivières GMF-U, agrees. She is a Trois-Rivières native who was part of the second cohort at the Mauricie campus. "I wanted to stay in my home town and give something back to the community," she said. "The teaching hospital is like a big family. The supervisors devote themselves to teaching because they want to keep their medical students. They are training their future colleagues." As the Mauricie campus edges towards its 20th birthday, Dazé offers it his best wishes for "health, happiness and prosperity," as he would to a loved one. "To have a healthy campus, you must have the resources to continue growing and dispensing quality education locally," he said. "At the end of the day, it's a win-win for everyone."
Mauricie campus: Where are the graduates now?
To date, the University of Montreal campus in the Mauricie region has turned out 309 medical graduates, 224 of whom are practicing family medicine. Of the 76 graduates who have returned to Mauricie and the surrounding area, 59 have chosen family medicine.
* As of January 17, 2022
Coming next month
Holding on to clinical clerks by making them part of the community:
Integrated longitudinal clerkship program (ELI) comes to Amos