A virtual pharmacy simulator for students
12/06/2022

Virginie Soffer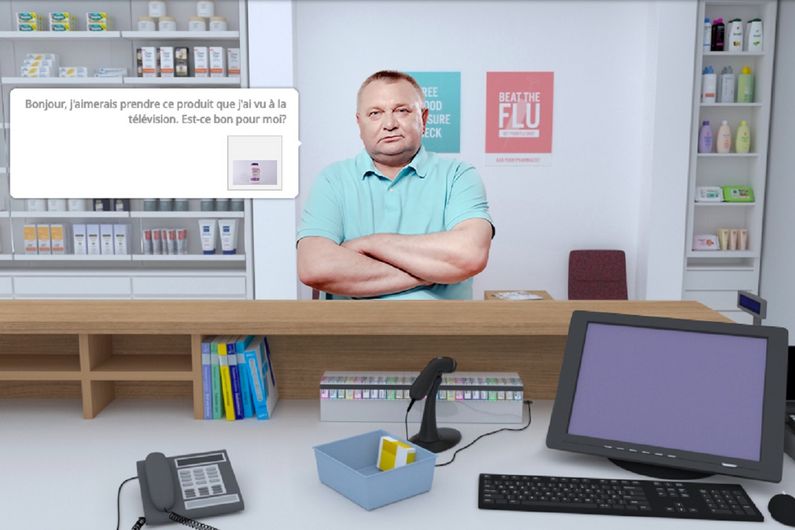 UdeM is the first university in Canada (and in the French-speaking world) to introduce an online simulation that allows pharmacy students to learn in a safe yet realistic setting.
X, a simulated patient, goes to the pharmacy counter. He'd read about the benefits of glucosamine online but isn't sure if it's a good option for him.
Pharmacy students can now safely practice answering the patient and get feedback, entirely online, thanks to the MyDispense platform developed in Australia by Monash University and used in more than 200 schools, colleges and faculties of pharmacy worldwide.
The web app was recently translated into French and adapted for the Quebec market. This work was carried out at the Faculty of Pharmacy by professors Francis Richard, François P. Turgeon and Claude Mailhot, lab manager Geneviève-Anne Pinard D'Amour, tutors Xueyu Liang, Maria Sajib and Jérôme Tousignant, and assistants Adam Belkasmi, Justine Brasseur-Masse, Léah Gosselin and Audrey Lafrenière.
The project was made possible thanks to funding from initiatives to support innovation in digital technology, as well as support from the Centre de pédagogie universitaire (CPU).
Starting this fall, the interactive simulation will be used by second- and third-year Doctor of Pharmacy (PharmD) students in their professional practice labs.
A database with more than 500 medications
This summer, the team from the Faculty of Pharmacy and the CPU took more than 600 photos of medications available in Quebec and entered their fact sheets into the database.
This has made it possible for students to learn about over-the-counter and prescription drugs online. For example, now that it's cough and cold season, they can review the products available on virtual shelves and determine which one is right for a specific patient. They can even zoom in on the products to see their ingredient lists.
Check prescriptions online and contribute to the workflow
Students can hone their skills as if they were in a real-world environment, with no fear that real patients will suffer the consequences of any mistakes they may make.
Pharmacists in training can now see the entire patient journey online, from the moment the patient arrives to drop off their prescription until they receive the right medication for their needs. In the meantime, students can talk with the patient, access their electronic file, scan the prescription, determine the correct dosage, prepare the label, put appropriate additional labels on the packaging and give advice when they hand over the medication. If necessary, they can check the patient's lab results and contact the healthcare practitioner who wrote the prescription.
The learning environment includes different scenarios that increase in complexity to match the student's progress. When speaking with the patient, students can choose from a variety of questions. For example, they might have to determine whether it's appropriate to ask a woman if she is breastfeeding, based on her file.
Many advantages for students
After each exercise, students get immediate, personalized feedback.
Students can also redo exercises. "In the lab, some students have more trouble than others," said Richard, who manages the labs for second-year PharmD students.
"The ability to redo exercises is very helpful for them. They don't have to ask a classmate to practise with them outside lab hours. They can come back and practise on their own so that they're better prepared for upcoming exams and internships."
What's next
A collaboration with Université Laval's pharmacy program to create even more scenarios has been planned. Other French-language universities could also be interested in this tool.
Another possibility could be to partner with CEGEPs that offer pharmacy technician programs. The software could be used by student technicians to learn how to prepare medications and write labels.