Supporting the fight against sexual violence in Africa
12/09/2022

Mylène Tremblay

With a Canadian government grant of over $20 million, Nobel Peace Prize winner Dr. Denis Mukwege enlists UdeM's help in improving health services for Congolese women who are victims of rape.
If there is one personal initiative that's emblematic of the struggle for women's rights, it is that of Dr. Denis Mukwege, winner of the 2018 Nobel Peace Prize.
Known as "the man who repairs women," the activist gynecologist has been treating victims of gang rape by armed groups in the Democratic Republic of Congo (DRC) for over 20 years.
And now his holistic model of care – which heals the body and mind of survivors through medical, psychosocial, socio-economic and legal care – can count on the support of Université de Montréal .
Through its International Health Unit and the involvement of five faculties, helped by the Montreal-based NGO Hygeia Observatory, UdeM has signed on to aid Dr. Mukwege with his project called TUSEME KWELI - Let's Tell the Truth.
Backed by $20.3 million from the Canadian government, the five-year project will provide highly vulnerable women and girls with better access to care at Dr. Mukwege's Panzi Hospital in Bukavu, eastern Congo, and at rural clinics in South Kivu province and neighbouring Burundi.
"This funding supports our efforts over the past two decades," Dr Mukwege said via video link from the health, prevention, teaching and research centre where he works.
"With the collaboration of Université de Montréal, we will be able not only to refurbish old equipment and rehabilitate dilapidated facilities, but also to reach out to the survivors. Some of them walk as many as 500 kilometres just to get to our hospital."
'The boost we needed'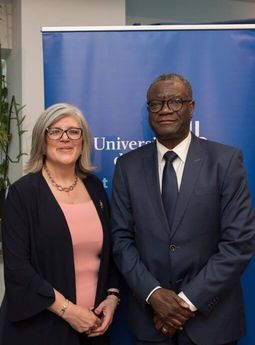 Marie Hatem, Denis Mukwege
Marie Hatem, a professor at UdeM's School of Public Health (ESPUM), has been fighting for this important project for years.
"It's the boost we needed to continue all the work we've been doing over the years," said Hatem, who designs and implements training programmes in institutions, hospitals and other centres that provide care to women in French-speaking Africa.
She runs the ESPUM-affiliated Hygeia, which aims to support the empowerment of French-speaking women in order to help reduce maternal and infant mortality in the Francophonie generally.
In 2017, Hatem first established contact with Dr. Mukwege's Panzi Foundation.
"I had thought of him from its very inception of Hygeia, in 2018, along with professors Lise Lamothe and Violaine Lemay," she said."A few months later, Dr. Mukwege received his Nobel Peace Prize. Then, in 2019, it was our turn: UdeM gave him an honorary doctorate."
Visiting Montreal in June 2019, Dr. Mukwege signed an agreement with UdeM under which the university would combine its training and research expertise in supporting victims of sexual violence with his own. The coordination of the activities of the agreement as well as the direction of the Panzi Foundation's ICART research centre are being handled by Hatem through the Hygeia observatory, under Mukwege's sponsorship.
In a lecture he gave at the ESPUM during his visit to Montreal, Dr Mukwege discussed his how his model of care works to repair the atrocities experienced by survivors in one of the world's must devastated regions, where girls and mothers from 6 months to 80 years old suffer the unimaginable every day.
'Tortured by as many as 15 men'
"When a woman is raped and then tortured by a group of as many as 15 men, she needs holistic care, which includes both physical and psychological care as well as socio-economic and legal support to regain control of her life," he said. "This is what we are doing at Panzi Hospital."
In Montreal, the seed of the TUSEME KWELI - Let's Tell the Truth project was planted. During a meeting, Hatem and his UdeM collaborators in a number of faculties and departments assessed what his foundation would need in terms of support for acquiring materials, training, research and prevention.
An action plan was drawn up to strengthen the four pillars of his model of care: physical, psychological, socio-economic and legal. The International Health Unit then applied for funding from Global Affairs Canada, which approved the plan in December 2021.
Six UdeM units are being called upon to provide support – the ESPUM, and the faculties of medicine, nursing, law, arts-and-sciences and planning – as well as numerous external partners.
"There is a lack of qualified human resources in health," observes Hatem. "We want to develop training programmes for staff, based on competencies and evidence, as well as on the humanisation of care in order to improve the caregiver-client relationship. The expertise of the Panzi Foundation will be used in rural areas and neighbouring countries to sustain its capacity and services."
5 to 7 rape victims a day
Not for nothing is the project called TUSEME KWELI - Let's Tell the Truth.
"Five to seven women victims of sexual violence are seen every day at Panzi Hospital," Dr. Mukwege said. "Rapes continue to occur, because they're the best way to traumatise the local population and reduce them to slavery. And as long as the criminals remain at large, they will continue to destroy women and we will continue to treat them. Our goal is to put an end to these atrocities."
He dreams of seeing the establishment of an international criminal court in the DRC to try the crimes that have been committed in that long-fought-over country. For now, on a smaller scale, he fights against the impunity of the perpetrators through the legal aid provided to women through his foundation.
"Even if women's reproductive systems are repaired, the scars remain, beyond the serious injuries," he said. "Survivors are rejected by their husbands and communities as tainted persons. Children born of rape have no parentage and are also rejected. The legal support we offer to those who want it helps them to regain their dignity.
"They say to themselves: 'I have been a victim, I know the person who is responsible for the suffering I bear in my body, in my mind and in society.' They fight for their rights and succeed in building a new life. Many become leaders in their communities."
Young girls deprived of schooling
Unsurprisingly, the COVID-19 pandemic has led to an explosion in the number of casualties, "especially among young girls who have been deprived of schooling and who are locked up at home," said Dr. Mukwege.
Collaborating now with UdeM, he sees better days ahead, with improved health services in a number of local institutions and the recognition in DRC of sexual and reproductive rights.
"A lot of activities to raise awareness of women's rights and fight against sexual violence are already taking place in community settings," he said. "Our project will hopefully strengthen this work, which includes engaging men."
For now, the project is only in its operationalisation and planning phase. Hatem is keen to get out there and someday put planning into practice.
"We can't wait for the pandemic to end – women are still dying, violence against women is still happening," said Hatem, who In the next few days will travel to the DRC to meet Panzi personnel with the ICU's senior project coordinator, Islene Lazo.
"Global health via video conferencing is no substitute for action on the ground," Hatem said. "It's a real challenge."