Contact-tracing to save lives

In a live broadcast, three UdeM professors discuss the technical, health and legal implications of a new smartphone application developed at Mila to trace exposure to COVID-19.
There are many ways to fight COVID-19: through social-distancing, limiting international travel, boosting medical care, and so on. But one of those most often talked about these days is technological: namely, smartphone applications.
Around the world, people are increasingly using contact-tracing apps to find out if and when and where they've been around someone infected with the virus, and to take appropriate action to make sure it doesn't spread further. In Montreal, researchers led by Université de Montréal computer science professor Yoshua Bengio have developed a free app called COVI they say will do that by combining epidemiology, cryptography, ethics, law, psychology and artificial intelligence.
Not yet approved for release, COVI is unlike any other similar technology deployed in other countries, its developers say. It would calculate users' risk levels several times a day, letting them know if they are a danger to others. As well, the data collected in their phones with their consent would be aggregated and transmitted to public-health authorities, who could then map "hot spots" in their jurisdictions where the virus is most present. Data would only be kept for 90 days and could be deleted upon request, directly by users.
A very public debate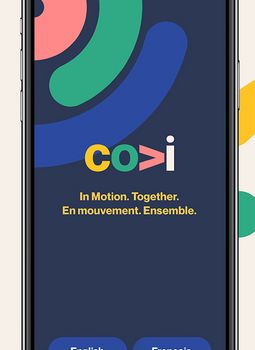 COVI would allow users' risk levels to be calculated several times a day.
Credit: MILA
Already, the app has generated debate: will the app really be effective, will users' data be secure, will enough people adopt the app to make the data truly meaningful? To address those concerns and talk about the usefulness of COVI and contact-tracing apps in general, Bengio and two other UdeM professors – Benoît Mâsse (public health) and Pierre Trudel (law) – took part in a live discussion Wednesday night broadcast on the university's Facebook page.
Moderated by political commentator Marie Grégoire with additional questions submitted in writing by the online audience, the one-hour event covered a wide range of issues. Bengio and his colleagues discussed contact-tracing from three points of view: technological, health and legal. Their consensus: once deployed and properly regulated, COVI could be a solid weapon in society's arsenal to combat COVID-19 and ultimately save many lives.
"Not all technologies are equal, as much in terms of privacy and in terms of their efficiency," said Bengio, MIla's scientific director. "What we need to emphasize is that (with apps like COVI) we can save lives in a very significant way. If people get onboard, if they understand how they can help their community this way, then it can really make an enormous difference."
An aid to manual tracing
Combined with manual tracing – in which public-health teams reconstruct the movements of COVID-19 patients by interviewing them and seeing who they were in contact with – apps like COVI would help people evaluate how likely they were to pass the virus on to others, said Mâsse, a specialist in social and preventative medicine at UdeM's School of Public Health.
"The only way to get out from under this pandemic is if we get the help of the general public," he said. "And applications like COVI can contribute in a major way to getting people involved. It's not by each one doing their own thing in isolation that we're going to win this battle. If the app isn't taken up by enough people, we'll either have to wait for a vaccine or keep treating people longer."
Added Trudel, a legal specialist in technological change at UdeM's Research Centre in Public Law: "These apps promise to replace physical confinement with a better way to evaluate risk that allows people to exercise their rights and freedoms," including of movement. The challenge in Canada, he added, will be to update data privacy laws to make sure people's information is truly secure.
Audience questions prompt answers
Questions from the online audience abounded during Wednesday's discussion, many of them technical. Here are some of those, and the answers Bengio gave.
Has COVI already been tested in the community?
No – in fact, it would take government authorization first before this kind of application could be deployed.
Would a pilot project be useful, to see it works in a known "hot spot"– Montreal North, for instance?
Yes, but we'd have more statistical reliability if it were tested in a number of communities, even across all of Montreal.
How precise is the Bluetooth technology that COVI uses? Can it penetrate walls?
Yes, a contact can be registered between neighbours in two separate apartments, if they're close to the wall.
Will the data that's collected ever be sold to third parties?
No, of course not, that would be forbidden.
Could the COVI app tell you how risky it would be to visit a friend?
No, we designed the technology so that it would never let you do that. It's a question of protecting privacy.
Who financed the research on COVI?
The federal government. Mila itself has private partners, but their funding is targeted to other works, not this.
For COVI to be effective, how many people would need to use it?
With AI, we need far fewer users than standard applications – even just 20 per cent of the population – for the app to have a significant effect.
About COVI
To develop the app, Yoshua Bengio and his team have been working closely with public authorities, namely the Canadian Departments of Health, Justice, and Innovation, the Privacy Commissioner of Canada and the Chief Science Advisor to Canada's Prime Minister. COVI will be managed by COVI Canada, a not-for-profit organisation and the data collected cannot be used for commercial purposes. COVI is the only app in the world that is endorsed by UNESCO.
The app will provide:
Automated notifications: The ability to use mobile devices to automatically inform a network of past contacts of a COVID-19 positive result, with state-of-the-art technology to protect the privacy of individuals;
Personal risk assessments: Thanks to an AI-powered tool, the technology will assess a level of risk for each user based on their health condition, symptoms and their encounters with other individuals;
Customized recommendations to users: Personalized tips and information according to medical best practices in order to encourage responsible action;
Aggregated epidemiological parameters to help health authorities understand the disease and optimize both individual and collective strategies at a local level.
The app works this way:
Users will be invited to voluntarily input information such as age, prior health conditions and symptoms in order to inform a personalized risk assessment and recommendations;
The app on a user's device connects with the app on another user's device when they are near each other at about the same time. The app creates a unique "match" that later connects the two users in a non-identifying way, and allows for consented information about estimated risk to flow between the two users' devices, via a cryptographic protocol and secured server which doesn't has access to the movements and contacts between people;
When someone is officially diagnosed as positive, health authorities send a message with a one-time password to the COVID-positive user, who can then consent to sharing diagnosis information (non-identifying) with the contacts stored in his/her app;
The personal risk level of users who have previously been in close contact with a COVID-positive person is then updated, with new tips on precautions or actions required (e.g. isolation or testing) in order to steer them towards behavior which will protect them.
Benefits for Canadians include:
Tech-enabled monitoring of the spread of the virus to gain in speed and efficiency, break infection chains and get collectively smarter about contagion;
Updated information about personal level of exposure and risk, empowering citizens to make better choices for themselves, their families and communities;
Personalized tips and recommended actions as users go about our daily lives and navigate confinement measures, notably to allow broad-based measures to be eased back while ensuring that higher-risk citizens receive tailored tips to implement stricter guidelines from authorities;
Timely data and insights to support public health response and mitigate the social and economic impacts of the pandemic by focusing the confinement and the tests on the people for which they are most needed.