Major investments at UdeM's Saint-Hyacinthe campus
06/16/2022

Martine Letarte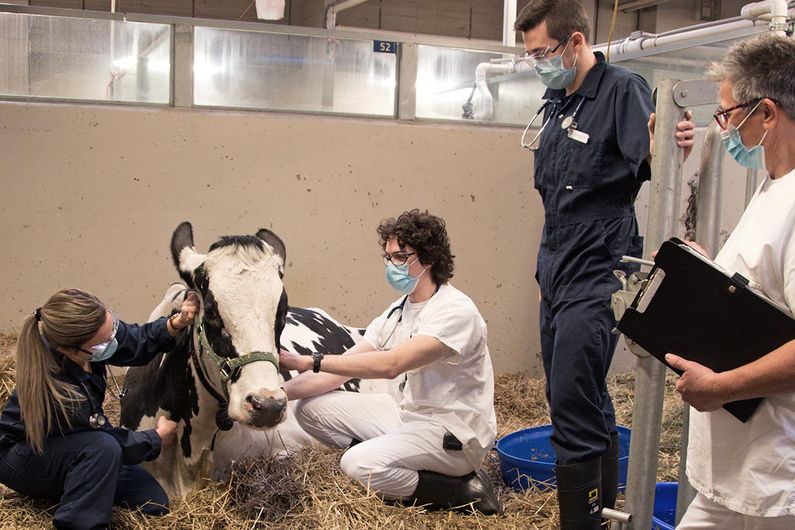 The Quebec government grants $101 million for the construction of a veterinary simulation centre, a clinical skills centre and an animal shelter.
The Quebec government has granted Université de Montréal $101 million for a veterinary simulation centre, a clinical skills centre and an animal shelter at its Saint-Hyacinthe campus.
At the simulation centre, students will be able to practice veterinary techniques on models, simulators and using virtual reality before performing them on live animals.
"For example, bandaging a horse's leg isn't a difficult procedure, but you still have to learn the right technique and get feedback to correct your mistakes," explained Christine Theoret, UdeM's dean of veterinary medicine.
"If you're doing it for the first time on a horse that's moving because he's nervous, that's not ideal for either the student or the animal. It's better to learn the technique safely in a simulation first to gain confidence and then learn to do it on a live animal, which has its own challenges."
According to Theoret, this is a big step forward for her faculty. Other UdeM programs, such as nursing and medicine, are already using simulations.
The university was able to acquire specialized equipment to outfit the simulation centre thanks to a $1-million donation last year from the Molson Foundation. "Now we just have to install this equipment in one functional, student-friendly location," said Theoret.
The approximately 800-square-metre simulation centre will also be able to meet the needs of other programs, including CEGEP and continuing-education courses.
A 6,500+ square-metre facility
A new animal housing / clinical skills centre will also be set up in a new building to be constructed on the Saint-Hyacinthe campus. The 6,500+ square-metre facility will bring together under one roof the teaching labs and animal housing facilities, including those used by the Cégep de Saint-Hyacinthe for its animal health technology program, currently located at the UdeM-affiliated CHUV veterinary hospital.
"Lugging animals around from class to class to teach students basic skills is not the most efficient way to do it nor the most ethical, since it's stressful for the dogs and cats," said Theoret.
The new multi-purpose space will also make it possible to modernize teaching methods and meet the physical requirements of the veterinary education program's accreditation body. The space to be freed up at the CHUV is also in demand for other uses.
"We need the space because our student population will increase by 26 per cent, counting the students accepted into our satellite program at Rimouski," said Theoret. "For their fourth year – so, starting in 2027 – they will be coming to the Saint-Hyacinthe campus and the CHUV. We therefore need more space for the clinical training of our future veterinarians."
The current shelter 'too cramped'
The veterinary medicine faculty's' animal shelter will also move into a new location adjacent to the animal housing / clinical skills centre. "The current shelter is located in a very cramped space; we want to expand and modernize it," said Theoret.
In addition to housing animals awaiting adoption, the shelter provides veterinary students with clinical experience. "It's a great place for internships because students can perform a variety of procedures, including sterilizations," said Theoret.
The shelter is also a place for veterinary student volunteers to acquire more experience as they progress through each year of their program. "It's a chance for them to gradually master a variety of techniques," said Theoret. "They learn about common diseases, how to make a diagnosis, how to prepare a treatment plan and administer it."
Given the large number of animals at the shelter, students also learn basics of sanitation to avoid the transmission of diseases.
"It's a place that offers a very rich learning opportunity very early in the student's training journey," said Theoret.
Because of limited space, the shelter currently has to turn animals away and limit the number of students who pass through its doors.
"Our Faculty of Veterinary Medicine is the only one in Quebec and is recognized by an American accreditation body, which ensures that our students receive training of a very high standard," said Theoret. "We have to make sure we meet that standard and that we are always improving. The new ahelter will be a fine example of that."
Meeting the vet shortage
By enhancing its facilities to improve the training it provides to Quebec's future veterinarians and train more vets, the faculty is helping address Quebec's vet shortage, she added.
"The shortage became more obvious to the general public during the pandemic because of their pets' needs, but it has existed for some time and we have implemented various strategies to address it," she said
The idea of offering a satellite program in Rimouski arose because the shortage is particularly acute in that region and in the bio-food sector – that isfor farm animals.
"We are hoping that if we train students in the region, they will decide to stay and establish their practice there," said Theoret.
According to study by Quebec's Ministry of Agriculture, Fisheries and Food, one-third of farm-animal veterinarians will retire by 2027, so more needs to be done to replace them. Since 2020, UdeM has therefore set aside 15 spots per year in its veterinary medicine program for students who plan to set up a farm-animal practice.
Brandon O'Farrell, a native of Saint-Malachie in the Bellechasse regional county municipality, is currently in the program and set to graduate in 2024-2025. "I've always wanted to work with large animals," he said.
"I have a family background in beef farming. My uncle took over my grandfather's farm and I started working with the animals on the farm at a young age. I always enjoyed helping to care for the animals, making sure everything was working well on the farm."
A dream coming true
For O'Farrell, becoming a large-animal veterinarian is a dream that is coming true.
"As a farm vet, you work outdoors much of the time, you're moving, you're doing many different things," he said. "We also work a lot with the farmers, especially on prevention. It's a way of life."
Where does he plan to practice after graduation?
"I definitely have the place I grew up tattooed on my heart and I'm thinking of going back there, but you never know. I could end up elsewhere. One thing's for sure, I'll be working with farm animals."