'His heart's in the right place'

With a new study on re-using cardiac medical devices, the eldest son of two UdeM health professionals becomes the youngest author ever published in one of the world's top medical journals.
For the Khairy family of Montreal, Father's Day came early this year. So did Mother's Day. And so, for that matter, did the Fête des patriotes, Fête nationale, Canada Day and World Humanitarian Day.
That's because in early May, Thomas, an eldest twin who's one of five children in his family, pulled off a precocious feat that does his parents, province, country and, indeed, international community proud.
At only 15 years old, not yet out of high school and still living at home, Thomas became the youngest-ever first author to be published in the prestigious New England Journal of Medicine.
And he owes his parents, both of whom work in the Université de Montréal health network, a debt of gratitude, along with numerous other health professionals here and abroad.
His father, Paul Khairy, a cardiologist at the Montreal Heart Institute and professor of medicine at UdeM, introduced the boy to the team in charge of the humanitarian project that led to his study.
Shares authorship with his dad
It's titled Infections associated with resterilized pacemakers and defibrillators, and with his name first, Thomas shares authorship with his dad and several others at the Heart Institute and elsewhere.
Thomas' mother, UdeM alumnus Nadine Yared, a pharmacist at UdeM-affiliated CIUSSS du Nord-de-l'Île-de-Montréal, offered advice of her own, helping her son — a gifted student at Loyola High School — stay focused and grounded.
Along with heart specialists in Montreal, Mexico, the Caribbean and Central America, Thomas and the Heart Institute team managed to craft a medical study rigorous enough to meet the standards of critical peer review.
All the while, they had a practical purpose: helping victims of heart disease in the developing world get access to medical devices that prolong — and ultimately save — lives.
"The whole process was completely new to me — getting published was all thanks to the exceptional team I had around me," said Thomas, who was student-council president at Loyola, a Catholic boys' school, before graduating this spring.
'Attracted to the humanitarian aspect'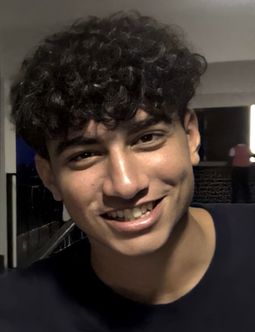 Thomas Khairy today, newly published in the New England Journal of Medicine.
Credit: Paul Khairy
"He was attracted to the humanitarian aspect of the project," said his dad. "The potential impact is huge, in terms of helping patients in under-served areas of the world."
The family's implication began in the summer of 2017, when Thomas signed up as a volunteer at the Heart Institute. He was drawn to a special program that sends used pacemakers and defibrillators down South, to Mexico and beyond.
The Montreal Heart-to-Heart cardiac implantable electronic device reuse program was set up in 1983 by Rafael Castan, an immigrant from the Dominican Republic who rose to chief cardiologist at UdeM-affiliated Jean Talon Hospital.
Through the program, pacemakers and defibrillators that would normally be thrown out after a person dies are rescued for re-use, sterilized and tested, and sent to Mexico, the Caribbean and Central America.
Soon after Thomas had settled into his rotation at the Heart Institute, he asked an innocent question of his supervisor, electrophysiology technician Marie-Andrée Lupien, who runs the program.
"I asked her how many lives were saved by re-using these devices," he recalled. "It turned out the exact number was unknown. And so I figured I would try to find out."
1,748 lives saved
Since 2003, the Heart Institute has kept a registry of detailed medical information from patients who had received the devices, and by crunching this data the number of lives saved was eventually arrived at: 1,748.
But Thomas took things a step further: he decided to find out how safe the used devices were versus new ones: were they just as good, or did they produce higher rates of infections and even deaths?
To find out, Thomas and his new team — Lupien and the researchers here and in Central America — took the medical data of 1,051 of the program's patients and looked for others, implanted with new devices, to compare them to.
Each had to be matched precisely: the age of the patient, whether the patient was a man or a woman, what kind of device they'd been implanted with and when, and so on.
The research team then assessed and compared their infection rates over time.
What they found, after a lot of painstaking collection and analysis of data, marked a breakthrough in medical research: used devices are, in fact, just as safe as new ones.
'It was a long shot'
The news was too good not to publish. But where?
"We weren't thinking about the New England Journal of Medicine at first," Paul Khairy recalled. "It was a long shot, but since this was the largest study of its type ever and of international interest, we figured we might as well aim high."
What followed was a long process of back-and-forth exchanges with the medical journal's editors, who required more detailed data and multiple re-submissions to meet their quality standards.
It took them a long while before asking about Thomas himself, however.
"Only after the final, final edit did they notice that the first author didn't have any credentials to his name," the student recalled. "They did a background check on all of us, and then they told me they'd never had an author under age 18 before."
It didn't matter, though: Thomas' authorship was established without a doubt.
Nights, weekends and summer holidays
"This was his project: he came in, he posed the question, he researched it, he drafted the protocol, got through the ethics process, wrote the manuscript, worked on this thing nights, weekends and summer holidays," said his dad.
"I mean, he deserved first authorship."
What's next for the budding scientist? Two years in health sciences at Marianopolis College, a private Montreal community college, this fall, then probably on to study medicine.
"We're exceptionally proud of him," said Paul Khairy.
"His heart's in the right place. He got involved for humanitarian reasons. The project was then born out of his intellectual curiosity, and now his research has the potential to make an impact worldwide."
Not that the young man is letting any of it go to his head.
"I'm still just a regular teenager," said Thomas, who turned 16 on Tuesday. "I'm not going to start feeling superior to anyone else just because of this study. Anyways, I still have to go through college and med school if I want to get to where I want in my life."
Might that involve Université de Montréal, like his parents?
"I'm keeping all doors open," he replied with a laugh. "UdeM is definitely an option. Of course!"