'I learned what the good life meant'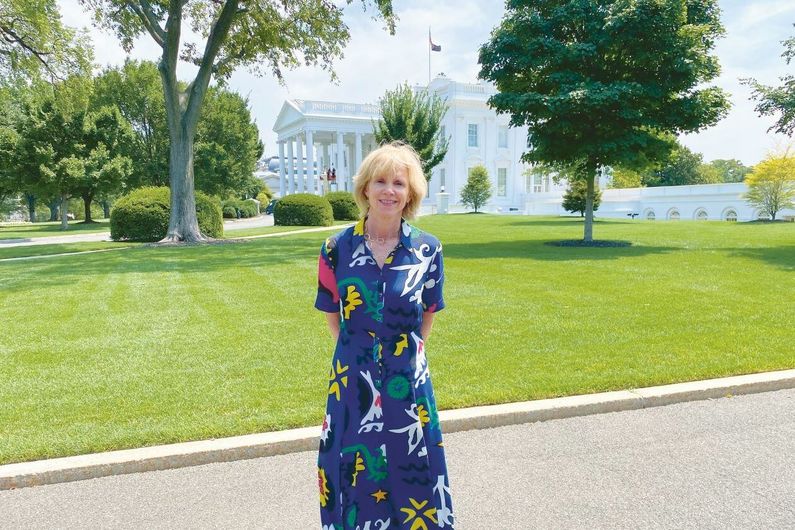 Appointed as U.S. President Joe Biden's "special assistant" on manufacturing and economic development, UdeM alumnus Elisabeth Reynolds reflects on what her experience here taught her.
Elisabeth Reynolds begins with an apology.
"I'm sorry I've had to reschedule, but it's just a whole new world here," the American academic says from Washington, D.C., several months into her new job advising U.S. President Joe Biden on economic policy.
"I don't control my own schedule anymore, and I find that very disconcerting."
Appointed early last March as Biden's special assistant on manufacturing and economic development at the National Economic Council, Reynolds had agreed to 20 minutes to talk about her life and work.
She'd come to Washington from academia. Since 2000 she'd been principal research scientist and head of the Industrial Performance Center at the Massachusetts Institute of Technology, and a lecturer at MIT's urban-studies and planning department.
Now she was happy to reminisce about a different, earlier time in her life, one she remembers particularly fondly: the years she spent in Montreal in the mid-1990s, doing her master's in economics at Université de Montréal.
Her memories are still vivid: Reynolds witnessed the passage of the North American Free Trade Agreement in 1994 and the Quebec referendum on sovereignty in 1995, and at UdeM found her vocation as a policy wonk, on labour issues.
At a crossroads
It was a formative time – one that led ultimately to the White House.
"Montreal was really a crossroads for me: I had an undergraduate degree in political science (from Harvard College) and I came to Montreal to work at the Institute for Research on Public Policy. I was from the United States, had been working in London (after studies at Cambridge University), and found in Montreal a third way to think about economic and social policy," she recalls.
"It wasn't just a U.S. market-oriented, laissez-faire approach, and not just a European, more social welfare approach, but one that combined the two: fiscally aligning more with the U.S. but socially aligning more with Europe.
"The Institute was great, a fertile ground for thinking and learning about political economy with wonderful colleagues, and it revealed a gap in my ability to understand public policy, and that was economics, which I decided to make my next field of study. I was accepted at master's programs at two other universities but chose UdeM because it was a two-year program, would give me a solid grounding in economics, had top-notch faculty – well-regarded both nationally and beyond – and would also allow me to improve the French I'd studied in high school."
'A gentle and forgiving environment'
With "excellent professors whose influence have stayed with me to this day" – including labour expert Thomas Lemieux, fiscal specialist François Vaillancourt and historian Leonard Dudley – she took classes that explored everything from interest rates to unemployment, from micro- and macro-economics to – a first for her – statistics. "Most of the written material was in English," she recalls, "so the program was a gentle and forgiving environment for someone like me who wasn't totally fluent in French. And I got not only a solid foundation in economics, but importantly, also in its application.
"It was economics very much grounded in context and history and the real world, and that was important to me because I wanted to go out and actually use what I knew to bring about change, filtering economics through my political-science lens."
Supervised by Lemieux (now at the University of British Columbia), Reynolds did her thesis on the growing role of women in the U.S. labour force in the 1980s and the wage gap between men and women, demonstrating an interest with deep roots in her childhood, raised by a trial lawyer and a teacher-turned-homemaker in Manchester, N.H., a once-prosperous city of textile mills, home to a sizable population of French-Canadian immigrant workers, that had since fallen into steady industrial decline.
Working women making choices
"From early on, I was aware of the loss of manufacturing jobs in my town and why it was so important to create new opportunities and build up a strong middle-class, with women as a central element of that," Reynolds recalls. "I was interested in the ways that women were making choices about work and family; my mother's path, for example, was radically different from my own. New Hampshire is also the state where the first presidential primaries are held, and so from the age of 10, I was involved in campaigns for Democrats, knocking door-to-door."
Little did she know that someday studying in Montreal would hone her interests to a fine point.
"My time in Canada, my time in Quebec, was profound for me," Reynolds says. "I saw a leading world country that could actually support workers and create a good quality of life for the majority of its citizens. I saw democracy in action – where there's a referendum on separatism that splits 51 to 49 per cent and the next day everyone just goes back to work – that's certainly not something that we in the U.S. just experienced last January," when the Capitol was overrun by supporters of the defeated president.
"I mean, it was profound to see a political system at work in Canada in which, even when the people on one side are fighting to exit the system, they respect the process for doing so. It was something I never forgot."
'It was all about the quality of life'
In Montreal, Reynolds also learned how to live well. Quebec sait faire, she found.
"Just a nice walk in the park on a Sunday with my friends – it was all about the quality of life. When I moved back to the States" – where she went on to complete her PhD at MIT in 2010 – "I just couldn't get over the huge portions of food they served in restaurants. In Montreal, I learned what 'the good life' meant, across the board: socially, politically, intellectually, culturally. It was a such an important time for me."
Will she remain in Washington for long, advising the president?
"There is no time frame for this job," she replies, and adds with a laugh: "All I was told was that usually people in my position stay for a couple of years before they burn out. So I'm planning for that!"