Hubert Aquin in the media
12/19/2022

Virginie Soffer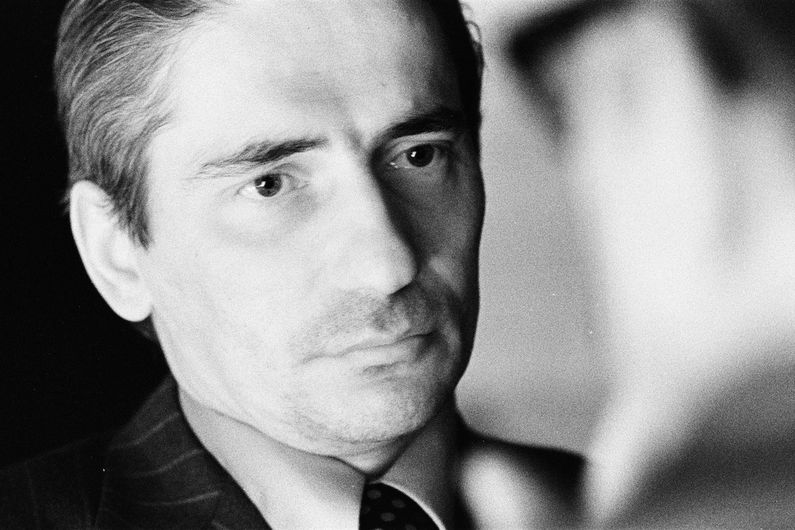 The first volume in an extensive anthology of Hubert Aquin's journalism and work in film, radio and TV has just been published, shedding new light on the legendary Quebec writer.
Aldous Huxley, René Lévesque, Michel Butor, Yves Bonnefoy, Francis Poulenc, Edgar Morin – these and many other notable personalities were once interviewed by Quebec writer Hubert Aquin.
And they now appear in an extensive anthology of Aquin's journalism and appearances on film, radio and TV. The first volume—686 pages covering the period from 1949 to 1962—has just been released by Quebec publisher Leméac.
With help from Andrée Yanacopoulo and François Maltais-Tremblay, the work was complied by Nino Gabrielli, an information-science and philosophy graduate of Université de Montréal and a researcher at the Centre de recherche interuniversitaire sur la littérature et la culture québécoises.
By day, Gabrielli works as a librarian specializing in philosophy, religious studies and classical and medieval studies at UdeM's Bibliothèque des lettres et sciences humaines. By night and on weekends, since 2016 he has dedicated his time to the Aquin project.
Documents that are 'so evocative'
One historical figure who came under Aquin's critical lens was French novelist Émile Zola.
In 1953, attending an exhibition marking the 50th anniversary of the Zola's death, Aquin's attention was drawn to documents highlighting the writer's role in the antisemetic Dreyfus Affair that rocked France at the turn of the 20th century.
"I didn't know that these kinds of documents—letters, drafts, notes scribbled down on paper—could be so evocative," a young Aquin commented on a Radiodiffusion française radio show.
Similarly, a paper trail – and audio and video trail – marks Aquin's own passage through popular media in the mid-20th century, gleaned in the new anthology from rare and as yet mostly unused material from the libraries and archives of UdeM, Université du Québec à Montréal, the Bibliothèque et Archives nationales du Québec, the National Film Board and the Centre d'archives Gaston Miron.
The book includes a wide variety of texts: articles and interviews for print media; TV and radio scripts and transcripts; work plans and research reports. The appendix provides additional detail with visuals, letters and drafts of scripts. Finally, an exhaustive mediography lists all of the audiovisual productions that Aquin contributed to between 1951 and 1962.
"So many different things'
"Hubert Aquin did so many different things, it's as if he crammed 12 lives into just one," said Gabrielli. "At Radio-Canada alone, he directed radio and television, worked as a journalist and interviewer for the flagship programs Carrefour and Premier plan, wrote plays for radio and television, adapted work for different media and served as a presenter, translator and program organizer.
"But there was one constant: he always held leadership positions," Gabrielli continued, "At Radio-Canada, being a radio and TV director wasn't enough, he also had to be deputy head of public-affairs programming . At the NFB, he wasn't just a director, he was also a producer.
"In addition, he was active in the Quebec separatist movement as a member of the Rassemblement pour l'indépendance nationale. He could have just been an activist, but once again he took a leadership role: vice-chair of the executive committee for the Montreal region.
"And he didn't just write novels and articles, he also headed UQAM's student paper Quartier Latin from 1950 to 1951 and the journal Liberté from 1961-1962, as well as serving as a literary editor at Éditions La Presse in the '70s."
---
Tragedy, but also 'tremendous vitality'
Then came tragedy.
On March 15, 1977, in the gardens of Collège Villa Maria in Montreal, Aquin shot himself in the head.
He'd long contemplated suicide, since his teens. A number of commentators have discussed his suicidal impulses, but Gabrielli wanted to focus on Aquin's determination to live life to the fullest.
"He held powerful positions. He worked tirelessly in a variety of fields. He had tremendous vitality, which I think people tend to overlook."
Consequently, the book highlights the many films and programs Aquin directed on a wide range of topics, including religion, mental health and even sports. Aquin, it turns out, was a big fan of car racing: he first came up with the idea of holding a major race, in 1962, and just a few years later that became reality with the first-ever Canadian Grand Prix.
At 686 pages, the new book may seem more a thing for Aquin die-hards than the general public, especially since, in his literary works, Aquin is not exactly an easy writer to read. But Gabrielli's hunch is that a larger public will warm now to Aquin's non-literary output, which is more approachable and could even spark an interest in exploring the writer further.
"I wanted to produce a book that's comprehensive but not overly comple," the anthologist said. "I wanted to explain and provide context."
A fascinating interview with Huxley
For example, there's Aquin's fascinating interview with Aldous Huxley, where Huxley talks about how he started writing, where his scientific information came from, his experiences with mescaline, and so on.
Some questions may seem eccentric, such as when Aquin asks the author of the classic 1931 novel Brave New World, "as a visionary and utopian thinker, don't you think that we could colonize the stars if the world becomes overpopulated?"
In the sequel Brave New World Revisited, in 1958, "Huxley himself talked about the impossibility of colonizing space, using words that echo his response to Aquin," Gabrielli said.
Indeed, Huxley wrote: "And even if, at some future date, emigration to Mars should become feasible … what difference would that make? In the course of the last four centuries quite a number of people sailed from the Old World to the New. But neither their departure nor the returning flow of food and raw materials could solve the problems of the Old World."
Throughout his anthology, in this and other instances, Gabrielli provides abundant footnotes to provide valuable context. The idea isn't to weight down the text but to enlighten readers, he said – and it works.
Life at UdeM in the 1950s
The book also evokes Université de Montréal as it was in the mid-20th century, when Aquin studied philosophy under professor Jacques Lavigne and, from 1948 to 1961, wrote for Quartier Latin, the student newspaper now called Quartier Libre.
At one point in charge of the paper, Aquin jokingly posted an ad for a new editor-in-chief: "We're looking for someone who has something to say and nothing to do. By something to say, we mean whatever drivel they can think up, and by nothing to do we mean they should be a university lad."
Elsewhere in the book, we learn how UdeM launched something very modern for its time: remote learning, first offered over the airwaves of Radio-Canada TV in 1961.
"I guess you're not undertaking this just to please students who are lazy or don't want to take the bus," Aquin told Marc Thibault, the broadcaster's head of educational and public-affairs programming at the time. "You also want to reach a part of the public that isn't, strictly speaking, registered in any classes."
Like many an Aquin remark, it's a line that still seems à propos today.
About this book
Hubert Aquin et les médias. Anthologie 1949-1977, Volume I: 1949–1962. Critical edition prepared by Nino Gabrielli with the assistance of Andrée Yanacopoulo and François Maltais-Tremblay. Léméac. 686 pages.