Mark Carney at UdeM: "Hope is not a strategy"
02/26/2021

Mathieu-Robert Sauvé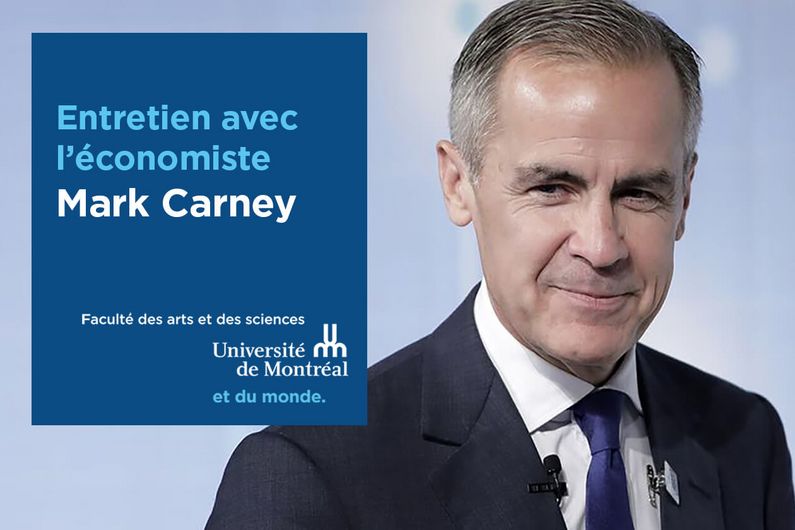 The British-Canadian economist and former Bank of Canada and Bank of England governor addressed over 1,350 attendees in a video call from London to the Université de Montréal community.
To find a way out of a global crisis like the one caused by the Covid-19 pandemic, "hope is not a strategy; it takes a plan," Canadian-born economist Mark Carney said last week in a virtual exchange with the Université de Montréal community.
Not only must the plan be well thought out, one's intentions must also be clearly communicated and mistakes readily admitted to, Carney said in his Feb. 19 video call from London, moderated by UdeM chancellor emeritus Louise Roy and seen by over 1,350 people.
"There are always mistakes during crises because these are times of great uncertainty," said Carney, 55, a former governor of the Bank of Canada and Bank of England. "You have to be aware of new information and adjust your strategy."
Originally from the Northwest Territories, Carney is a graduate of Harvard University and the University of Oxford. He was named to head up the Bank of Canada in 2008, serving a little over five years before being tapped to run the Bank of England in 2012.
The first non-British governor in the Bank of England's nearly 400-year history, Carney – who also holds Irish and British citizenship – occupied the prestigious position for nearly seven years, leaving in March 2020.
During his hour-long talk for UdeM, given in French from his London home, the economist also answered a selection of questions and responded to comments submitted by some 200 virtual attendees. The event was broadcast online free of charge.
A business opportunity
On a humourous note, he began by pointing out that the COVID-19 crisis actually represents a business opportunity for economists. "The good news for economists is that we will need you," he said, addressing UdeM's students in that field.
He went on to introduce himself as a crisis specialist, having dealt with the 2008 global financial crisis as head of the Bank of Canada and the start of the COVID-19 crisis as outgoing head of the Bank of England.
Another condition for successfully exiting from crises is having a strong state, Carney said.
"I think there is an imbalance between market values and societal values," said the economist, whose book on the subject, titled Values: Building a Better World for All, will be published next month.
"And I am sure that capitalism loses its sense of moderation when belief in the power of the market enters the realm of faith. Faith can be a guide for life but it can also blind us in our economic policies."
Emphasizing that societal values must guide collective decisions, Carney noted the surge in social solidarity and resilience that has been revealed in Quebec by the current crisis over COVID-19.
The biggest challenge: climate
In Carney's view, the biggest challenge facing societies today is the climate crisis.
He said he is determined to get international leaders meeting in Glasgow in five years for the United Nation's Climate Change Conference (COP26) to "build a framework to ensure that every financial decision, every financial decision, takes climate change into account."
Introducing the guest speaker at the start of the event, UdeM rector Daniel Jutras reminded the online audience how fortunate they were to have "privileged access to the ideas of someone who is at the heart of the major issues of our time."
During his lecture, Carney responded to questions submitted in writing by those who'd registered as well as to others asked directly by Benoit Perron, director of UdeM's Department of Economics. After the event – which can be viewed free online – Carney gave a private master class to UdeM economics students.
Carney's talk to UdeM was made possible by the hard work of several people in the rectorate and Faculty of Arts and Sciences. In particular, FAS dean Frédéric Bouchard highlighted the collaboration of Thomas Mulcair, a visiting professor in the Department of Political Science.